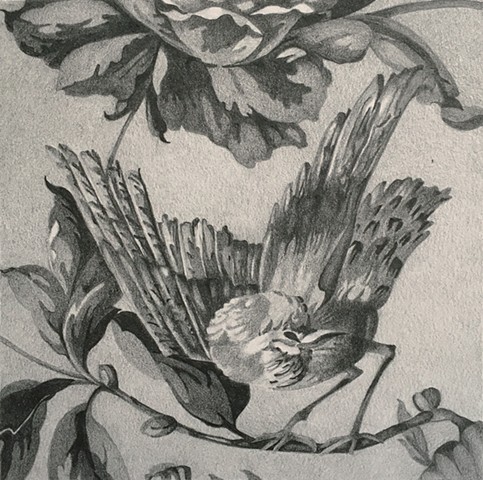 Artist Statement
Flowers, trees, birds, writing-like abstractions, no squared formats and especially lines are pervasive throughout my work. In most pieces I compose using at least three of the above if not all to indicate the simultaneous occurrences of dissimilar or contrasting events or emotions. There is a direct correspondence of the graphic, linear, and repetitious with personal elements of pattern-like behaviors or influences. Likewise, the flowing, curvilinear lines have the same level of correspondence with a line of thought that is purposely abstracted to keep the majority of this thoughtfulness to myself as I am often trying to decipher the language of abstract thoughts I delineate. Again, the same correspondence happens when the good and comforting are related to the representation of trees, birds and the decorative.
I assign imagery to persistent emotions and memories that have a significant impact on my daily consciousness. I am determined to find what is certain and uncertain in my life and artistic practice. I purposely place contrasts of the certain and uncertain in my art by using straight lines to indicate something relatively certain and a pattern of lines to portray something that I have found to be more concrete. The absolute is often elusive, hence the reason I place elements of abstraction with the predictable path of line and pattern.
I choose to use a variety of media to convey all of the preceding. Each media I use is naturally linked to a certain emotion or affectation: meditative-printmaking, spontaneity-painting, etc. My work is a consciously limited sharing of my thoughts and discoveries of being certain and uncertain and the tension that comes from depicting these.